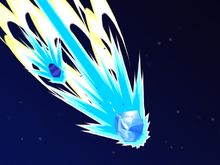 The Temsik Meteorite is a unique meteorite that crashed on earth roughly ten years ago. Part of the meteorite crashed directly into Yomiel, piercing his heart and killing him. It was found out eventually that anyone who dies while under the meteorite's radiation will gain ghost tricks.
Yomiel divides the ghost powers into two different groups: Power and Time.
Power: The special abilities the person gains (ghost tricks)
Time: The ability to stop time (of Yomiel's and Sissel's body) or to go back to 4 minutes before someone's death.
Temsik is 'Kismet' backwards. Kismet is another word for 'fate', or 'destiny'.
Kismet is the word for luck or destiny in several different languages.
Community content is available under
CC-BY-SA
unless otherwise noted.